Sad Goodbye to Karen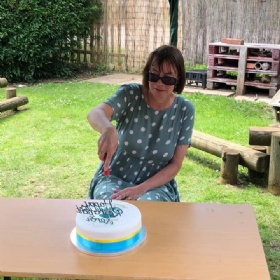 Karen Sharman has retired as head teacher after 19 years at Ronald Tree Nursery School.
Following a day of safeguarding training, the staff said a fond farewell in the garden to Karen on Friday 17th July.
Karen came to Ronald Tree as the teacher in September 2001 and has been head teacher since October 2011.
Unfortunately due to the Covid 19 restrictions we were unable to give Karen the send off which we would have liked to, inviting back former staff and governors and of course, all our current children. Instead the staff shared some cake and lots of happy memories with Karen and she loved the card which the children had made for her. She has asked us to thank all our children and families for the very kind wishes they have sent. We wish Karen a long and happy retirement; we know she will keep in touch.